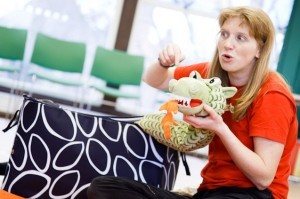 Hi I'm Becca and I'm the founder and director of Dramabuds.
I set up Dramabuds in May 2008 to offer classes that were new, exciting and different. Using my expertise in drama and the creative arts my idea was to create an imaginary play and drama class for the early years and Dramabuds was born!
We offer classes for children aged 2 to 10 years, we base our classes around a story theme each week and we get the whole class involved in the action through drama, play, movement and song!
Before setting up Dramabuds I learned my trade by studying at drama school and acting in theatres before leading and producing drama, theatre and education projects for arts companies and schools across London and the South East.
I have worked with Cardboard Citizens, Cirque Du Soleil and Creative Partnerships on high profile projects. But the birth of my second daughter Eliza inspired me to create drama exclusively for the Early years.
So Dramabuds was born in the summer of 2008 in my back garden with my daughter Florence (aged 2 and a half) who loves dressing up as a princess and acting out stories. A year later we were running our classes at venues across SW London and were awarded the runners up prize for ' Best new Activity for the under 5's'in the whole of the UK by What's on 4 little ones.
Next in 2009 came our exciting children's birthday parties and now 2 and a half years on we have entertained over 10,000 children with our Dramabuds magic.
Earlier this year we were nominated for 3 awards by What's on 4 little ones including Best Local activity for children, Best children's party entertainment and Most outstanding activity leader for under 5's.
Then most recently in in May 2011 we launched our programme for Schools, Nurseries and Early Years Settings.
So Dramabuds has grown and it's no longer just me running class for the local children of Carshalton in my back garden. We are now in schools, nurseries, church halls, libraries, children's centre's and theatre's across SW London and I have a team of very talented Dramabuds teachers leading classes and parties for me. By the end of this year (2011) we will be launching our first Dramabuds franchises so Dramabuds will be expanding across the UK very soon. However my favorite part of the job is still teaching the classes and going on a journey of discovery with every child that attends and seeing their confidence grow and Bloom.
Plant a seed. Watch it grow.
Discover how your child can flourish with dramabuds.