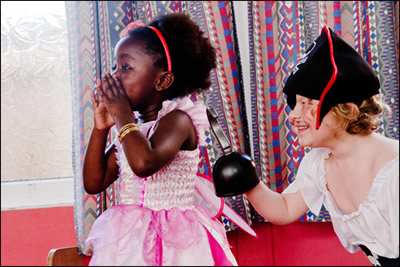 "Just wanted to say a big thank you from ourselves and especially Abbie .The children
had a really good time some not wanting to go as they said it was so good . Abbie
said before she went to bed "that was a great party !" We  will definitely be recommending you."
Nikki Davis (Mum) and Birthday girl Abbie 6 Kingston
"I thought my son's fifth birthday day party for 30 children was going to be a challenge but the Dramabuds team did an incredible job. The boys and girls really loved the superheroes and princess theme and were captivated for an hour. It certainly beat soft play!"
Catherine Thorne (Mum) and Birthday Boy James 5 Cheam
"Thank you for such a brilliant Dramabuds Party! Harriet felt really special and al the children enjoyed joining in"
Rachel  Pflegel(mum) and Birthday girl Harriet 4  Carshalton Beeches
"My 3-year-old son loves these classes – he had me howling with laughter at his animal impressions during the first session we went to. It was lovely to see him totally captivated by a story which he not only got to act out but was also involved in developing. I'd recommend this for those children who are shy and need their confidence boosting, to those who are boisterous, with a vivid imagination. Although I've been to story telling sessions and music groups before, I haven't heard of any other toddler drama groups quite like this…"
Michelle and Daniel Carshalton
"My daughter chose to have a dramabuds party for her 5th birthday party and it was fabulous – It amazed me how Becca kept the full attention of 20 children for a whole hour and they all loved every minute !! My girls both then joined the dramabuds classes in Carshalton Beeches had a wonderful time – I have seen an enormous improvement in their confidence. Highly Recommended !!!"
Emma Fletcher, mum to Katie (6) and Zara (4), Carshalton.
"The storyteller was enthusiastic, fun and very theatrical…..for keeping small children involved it was ideal….
I left feeling this type of activity could be great for giving my sometimes shy son more confidence."
Sarah Husselmann, Families Magazine SW london (class review)
"My Children had a fantastic time at a Dramabuds fairy-tale themed party.
Having the Birthday girl as the main character was a lovely idea and the way that the party games were integrated into the story was excellent."
Helen Dixon, Mum to Ben aged 3 and Isabella 19 mths, Epsom
"We had a fancy dress Peter Pan themed party for my twins 6th birthday party. There were 30 children and Becca kept them all amused. Even the boys were getting really into it. Games and songs built in to the story so it flowed really well. Thoroughly recommend it for something a bit different."
Tracy mum to 6 year old twins Wallington
"Hi Mums etc Just wanted to tell you about a really good activity I took my 19 month old son to today. Dramabuds. We went to the one in Cheam Library, (others in Carshalton and Wimbledon). My lad is a 'loud-won't sit still' boy so this was perfect for him. We all got involved in a story and pretended to be the characters (horses, train, ballerina). The lady running it is really enthusiastic and welcoming. I'm deffo going to sign up for next term. If your interested you can go for a free trial -.xx"
Tracey and Bailey Tadworth
"Just a quick note to thank you again for such a lovely party on Saturday. Izzy and her friends had such a good time and she hasn't stopped talking about her special birthday fairy! A couple of the other mums asked me for your details so you might get some more enquiries from this part of Surrey – I'd certainly recommend you to anyone wanting a fun and memorable party for their kids."
Kate Watson, Mum to Izzy aged 3, Surrey.
"Hi, I would just like to o say how Wonderful the party was.
It went even better than I could have hoped, and you and Victoria did really well at involving everyone. For me the most magical part was went I came back after getting a drink for one of the children, and the room was filled with the tiny bubbles the lights were dimmed and everyone seemed in awe. Thank you ever so much."
Michelle and a big grown up Emma at 6 ! Croydon
"My daughter Amy thoroughly enjoyed Dramabuds from 21/2 years old. I think the experience of drama at a young age has had a positive effect on her confidence. She is now a very confident and out-going 4 year old who loves role play."
Best Wishes Paula & Amy, Wallington
"The children loved the dramabuds session and haven't stopped talking about it all week!"
Donna Beech Royal Earlswood Nursery, Redhill
"I have found Dramabuds to be excellent…. The content of the sessions are varied using a variety of strategies including games, music, discussions in role and multi-sensory techniques to engage the children. The style is lively keeping the children's interest throughout with all the children participating with enthusiasm whilst concentrating and following instructions. The children's ideas are used in the drama created and all contributions are valued and encouraged."
Helen Teasdale, Music and Drama teacher, St Giles School.
"I would just like to say how delighted we are with the quality of your classes – members of staff who have observed them …have commented that they are inspirational with all the children fully engaged. In addition, your administration has been extremely efficient."
Fiona Lee, Stanley Park Infants.
Enjoyable and fun classes, with all the children fully engaged"
Ayelet Wellard, Bizzy Bees Nursery Worcester Park
"I wanted to thank you for creating such fun Dramabuds classes. They seem especially well suited for kids that don't have english as a main language at home! Birgitta and I will keep recommending your classes as a fun way to practice english!"
Katie Hostalier mum to Nico aged 2 Wimbledon
Plant a seed. Watch it grow.
Discover how your child can flourish with dramabuds.